Just because the printer industry sells printers cheaper than the inks, this doesn't mean that printers are disposable. It's just the manufacturer's sales tactics to make more money by making you believe this. They are actually repairable with the correct skills and knowledge. Kitamura's Director has been repairing all makes of printers/lasers for over 8 years, before Kitamura was established, so you can safely assume we know our business. Due to his longevity in the computer hardware industry, he has a lot of experience, and he has brought this to the staff with extensive training.
We have extensive experience of repairing all types of printers, from small cheap inkjet printers all the way up to industrial printers, including:
BubbleJet printers
LaserJet printers, both colour and black & white
Dot Matrix printers, still used by MOT and car garages
Home and office all in one systems (Printer, scanner & copiers)
All makes of photocopiers and digital copiers/multifunction machines
We regularly salvage and dismantle unwanted printers, then test and store the components so we have a large stock of parts for many types of printer. Just because you only paid £30 for your machine doesn't necessarily mean it's going to cost more to fix. Many printer issues arise simply because the printer needs its mechanical components or electrical ink nozzle system servicing. Printers contain lots of sensors, such as paper sensors, feed roller sensors, and ink sensors. These regularly get dirty or fail and give incorrect readings to the printer's built-in control computer, which can often cause the printer to exhibit symptoms that can look fatal to the average user because it goes into what we call "service lockout" where it will display error codes or flashing LED's and not allow you to do anything with it until the fault is fixed by an engineer.

The manufacturers only want you to buy a new printer to boost their massive profits. We repair them because we love doing it and hate greedy lying manufacturers. We repair all models of the following makes of printers: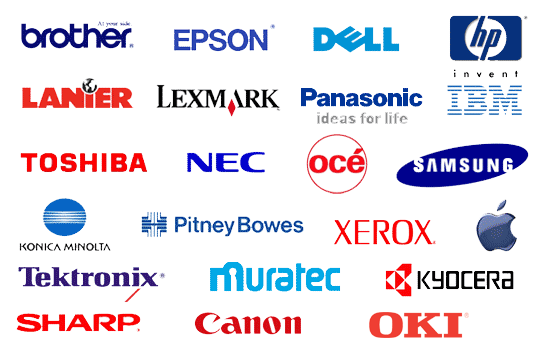 We handle all printer repairs either at your premises or at our fully equipped workshops. Many customers have us collect their faulty printers on an arranged timescale so cutting costs dramatically. Whichever scheme you require, we will fit in with your requirements.

We undertake all repairs to printers, from simple cartridge and toner changes to complete circuit board repair and chip programming, including:
Power supply repair/diagnostics
Inkjet/nozzle & control circuitry/IC software repair/reflash/diagnostics
Sheet feeder stepper motor/gearbox repair
Printer housing replacement
USB, Parallel & Wi-Fi/Bluetooth interface repair & diagnostics
As well as our extensive printer repair services, we also have an excellent as-we-need-it consumable and spares service. Unlike 99% of other shops, we don't have lots of ink cartridges on a shelf sitting around waiting for someone to buy them, drying out and wasting money. We only get spares and ink supplies in when a customer needs them, usually the same day they're requested. If you order cartridges by 11am we'll have you the freshest ink ready for pickup when convenient! We can even drop them off and install them for you, FREE! If you need anything else such as toner cartridges, power adapters, paper trays, etc, let us know and we can get them for you too, and fit them if needed!
So whether you have one or one hundred printers, why not trust a company which is now the newest independent maintenance organisation in the whole of Whitefield & Bury, UK?
No other maintenance and repair company offers such a competitive service!
Fast response
No obligation
Any make repaired
Guaranteed repairs
Spares & consumables
Including fuser and fixing assemblies
You won't find a better offer in the UK