Modern mobile phones have come a long way from the brick sized monsters of the 80's all full of wires and different control boards. These days they are fully integrated devices with often just a single printed board, known as an "engine" board that requires jeweller's finesse to repair professionally.
Makes & Models of phones we repair
We are proud to say that we can repair all faults on all makes and models, we have even repaired brick phones from the 80's for collectors! We repair to a professional factory standard using our extensive electrical knowledge, skills and experience, so whether your phone needs a new screen, keypad, battery, casing parts replaced all the way up to full circuit board surgery, get in touch, we'll do you proud! Below is a small selection of makes of mobile we fix: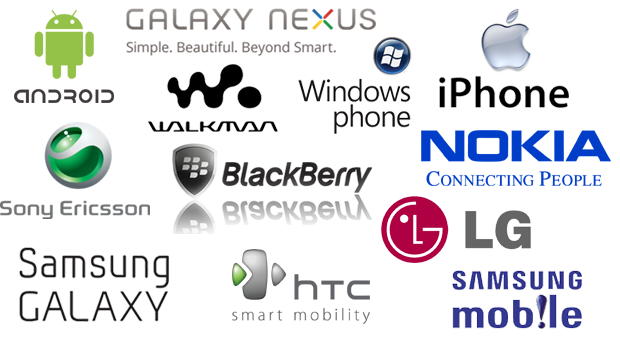 Mobile phone faults we fix
There really isn't a fault on a mobile phone that we can't fix. From a damaged screen all the way up to chip reprogramming and PCB repairs, even casing and liquid damage, we've been fixing phones and electronics for over 20 years, so we're competent at what we do. Is your phone not charging? Your speaker or microphone not operating correctly? Phone not connecting to the network? Screen cracked/not working right? We can help with those problems, and lots more!
Screen replacement and Quality Check (QC) stress testing
Damaged casing replacement
Main PCB (engine board) diagnostics, chip reballing and reprogramming
Battery charging & power distribution circuitry repair/diagnostics
Apple iPhone jailbreaking, Cydia tutoring and jailbreaking advice
Radio (RF) connection diagnostics/circuit repair
Phone MUI (Main User Interface) software updates and configuration
Spares supplied, such as batteries, chargers, cases etc. We stock GENUINE accessories, not cheap nasty Chinese rubbish that corner guys do!
Our professional repair policy & procedure
We set ourselves out from your average street corner mobile repair shop, because unlike them, we actually know how to repair electronics, and have been doing it for many years, even before some of these repairers were born. Most corner shops think because they've taken one phone to pieces using an amateurish website like iFixit.com, that they can then set up a business. It doesn't work like that, you need skills and experience. We can repair the printed circuit boards in phones, rather than just simply replacing them. Depending on the fault this can work out 50% cheaper than scrapping the phone like the other guys will tell you to do, simply because they can't do the job, they don't want someone who can to get your custom.
I've worked for a lot of these backstreet people that do it blindly, just ripping the phone to bits, then having loads of screws left over when they think they've finished. They don't care if it falls to bits or it fails, they just charge you to do the work again and make a bigger mess. It is shocking and dreadful to think they don't care about customers. We do, so we do it properly, first time!
We have links with popular manufacturers such as Sony, Nokia, Blackberry and HTC, who provide us with factory service literature that enables us to perform precise board repairs as we have the factory electrical schematics and the professional electrical training & skills, to be able do the job to a factory standard.
No matter how small the issue with your phone, get in touch with us and we'll do our best to get you back calling and texting again in no time, with the minimum of fuss and cost!