If you've found yourself locked out of your computer, because you've forgotten your password, or a software/hardware fault has occurred, don't panic! It can almost feel as bad as being locked out of your house, as we store so much of our digital life on our computer, such as family photos, work documents, and even secrets! Password removal and recovery is something we do on a daily basis, and we're proud to say that 99.9% of the time, we're successful! We perform password recovery in the following areas:

Forgetting your Windows or Linux logon password is something that happens in life, no matter how good you are at remembering, or whether it's the 1000th time you've entered it. Or in the worst case scenario something goes wrong with the authentication system of the OS. Believe it or not, that happens too! We can remove and reconfigure your passwords, using the best software in the industry, to get you up and running again in no time, with the minimum amount of fuss or disruption to your day.

We have been doing this service for many years, and can perform password reset/removal quicker than anyone else, usually within 10 - 20 minutes! And for just £10!

We can perform this service on all versions of Windows, and most versions of Linux, including Ubuntu, Mint, RedHat and OpenSUSE to name but a few!

The BIOS of your computer has built in security, to prevent use if stolen. But, forgetting your password when you're the owner can be very frustrating, especially when you've got work to do! We can help! We are experienced in removal of passwords from both laptops and desktop PC's, with BIOS ROM's from the following vendors: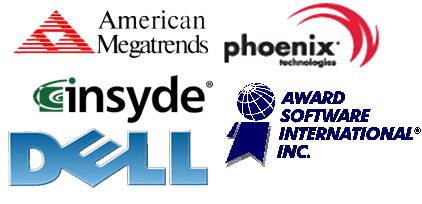 We can remove most desktop PC BIOS passwords within 5 minutes. Some laptops, however, have to be dismantled to have their password removed using specialist equipment, which usually takes us about an hour. We dismantle and rebuild all laptops to factory procedures using factory literature, and are highly trained and experienced in this task, so you can be sure your equipment is in safe, professional and experienced hands. ALL suspicious activity to the Police, check machines for Infra-Red security markings, and verify serial numbers of machines with manufacturers and Police that are believed stolen.